The Honeydew Hibiscus Experience: sweet, strong, mouth-watering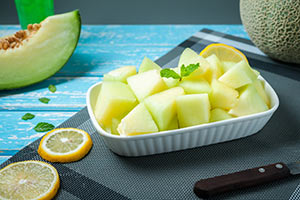 Like a juicy slice of honeydew melon, our Honeydew Hibiscus tea is sweet and sublime. Top that honey-sweet base with puckery hibiscus and fragrant orange slices, and you have a strong cup full of bold fruity notes and mouthwatering tartness. Honeydew Hibiscus may not have any caffeine, but it is a lively and energizing infusion nonetheless.
Tasting Notes: tart, citrusy, fruity
Steady citrus notes complement the tangy hibiscus in this blend, while a quiet hint of honeydew lingers on your palate. With chunks of real honeydew, apple and orange, this tea is like a cup of fruit salad… but zestier!
Ingredients: Honeydew melon, apple pieces, hibiscus blossoms, orange slices, natural flavor.
1.5 tsp Per Cup
212°
4-8 Minutes
Savoring Your Experience:
Pair Honeydew Hibiscus with light dishes, such as a chicken salad sandwich, chilled cucumber-basil-mint soup or lemon chiffon cake.
Fun Facts:
Honeydew is full of nutrients, including iron, potassium, fiber and vitamin C. While its cousin the cantaloupe is more popular, honeydew is still a top choice for fruit salads, parfaits, popsicles and other desserts.