The Apple Mango Hibiscus Experience: exotic, sweet delightful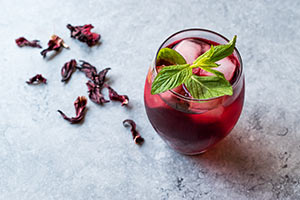 This sweet, bright infusion transports you to warm locales.
Tasting Notes: tropical flavors, berry
This infusion's pretty purple color proudly announces that this tisane is a joy to drink. The candied fruit aroma seconds it. In the flavor, a burst of mango is apparent before the creamy apple and tart hibiscus come through. Pineapple and papaya pieces, berries and flower petals round out the cup, while apple pieces offer a hint of creaminess.
Ingredients: Apple pieces, hibiscus, pineapple bits, elderberries, black currants, papaya bits, marigold flowers, mango pieces, sunflowers, flavor.
1.5 tsp Per Cup
212°
4-8 Minutes
Savoring Your Experience:
Add a little bit of honey or a sprinkle of sugar to counter the tartness of the hibiscus. Try this tisane brewed strong and poured over ice and a bit of sparkling water. Enjoy!
Fun Facts:
Turkey is a land of tea drinkers. There, both Camellia sinensis black teas and fruit-based or herbal tisanes are served in a glass, tulip-shaped cup. A samovar is often used for keeping tea water hot, and nearly every home has tea at the ready. With teas like this, we can understand why!