Hi, there. This is Thomas and Theann Egbert in McKinney, Texas.
Since we opened Fusion Teas in April, 2010, it has been clear that we are not your typical loose-leaf tea company. We're not stuck in ideas of what tea 'should' be like or what the newest 'beverage trend' is this week. Our focus is solely on teas that charm from the first whiff, that delight at the first sip and that leave you feeling as though all your troubles have been washed away. Whether it's exotic blends, modern takes on classic flavors or pure, connoisseur teas that entice you, we aim to provide the tea, blend or herbal tea that'll soon be our new favorite.
When we first started Fusion Teas, we focused on premium herbal blends. We wanted to change the perception that herbal teas are just something you drink when you're sick. (And sure, we agree that tea is healthy. But how healthy is tea for you if you buy it and it just sits in your kitchen cabinet for a few years until you toss it out? Our goal is to help you make tea a healthy habit by offering delicious teas and blends that you'll love drinking throughout the day, every day!)
To begin, we curated a selection of some of the world's best herbal teas and herbal tea blends, with a spotlight on our hibiscus blends, which are blended with apple for an engaging sweet-tart flavor. Over the years, we've learned a great deal about our teas, the world of tea, how to be a great tea business and how to be the best we can be for our wonderful fans. We added to our collection again and again, each time selecting only the best new teas and blends we could find. We delved into the world of Yerba Maté headfirst, finding blends and pure Matés that appeal to former coffee drinkers, caffeine addicts, tea latte lovers and more. We were inspired to add pure teas (such as Black Tea and Green Tea) to our collection, and then to expand upon our pure teas to include premium, single-origin, Organic Certified and Fair Trade selections. And throughout it all, we kept one goal in mind: to delight you, our fans and customers.
Part of meeting that goal has always been price consciousness. We know that many people are new to tea or are switching from teabags and are not prepared to spend a lot, so we always make sure to have plenty of quality, inexpensive options on hand for you. We keep our costs and mark-ups to a minimum, so we can help you save. Unlike all those expensive big-city tea businesses, we use our location (a suburb northeast of Dallas) to keep costs and prices low. And being a primarily online business helps, too—rather than staff a brick-and-mortar store, we showcase our teas in our showroom in McKinney and visit local weekend markets and other events to promote our tea.
And part of delighting our fans and customers is all about the personal connection. Meeting so many of our customers at local events helps us connect directly, find out what delights you, and continually improve our offerings and business. If you're in the area, we hope to connect soon! And if you have any questions or suggestions, or you're looking for a particular blend, please let us know!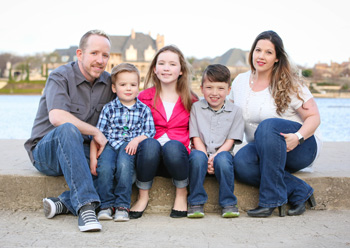 Hope to hear from you soon!
Thomas and Theann Egbert
Fusion Teas
service@fusionteas.com

1918 University Business Drive
Suite 513
McKinney, Texas 75071
Need help or just don't like placing orders over the Net? Contact Us.
Thank You for shopping with us!