The Apple Vanilla Hibiscus Experience: delicious, warming, comforting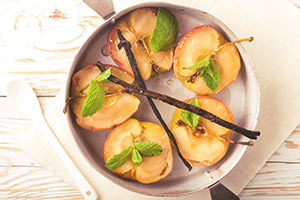 The complementary duo of apples and vanilla draw you in for a yummy treat tinted with homey nostalgia.
Tasting Notes: toast, baked apples, cream
The aroma of this blend, almost like vanilla liqueur in its sweet vanilla notes, entices you immediately. The crimson infusion highlights the hibiscus. Apple pieces, vanilla and hibiscus blossoms combine to make a truly delicious, slightly tangy, well-balanced brew.
Ingredients: Apple pieces, vanilla pieces, hibiscus, flavor.
1.5 tsp Per Cup
212°
4-8 Minutes
Savoring Your Experience:
For dinner, pair your Turkish Apple tisane with veggie kebabs, sheep cheese and almond-stuffed dates. And for something sweet at the end of your day, try it with a slice of rustic fig and hazelnut bread. If desired, add a little honey or sugar to complement the tartness of hibiscus.
Fun Facts:
Apple-flavored black tea is the most famous tea in Turkey. This herbal infusion is a sophisticated, caffeine-free twist on a Turkish classic.