The Wild Cherry Hibiscus Experience: frisky, fun, delightful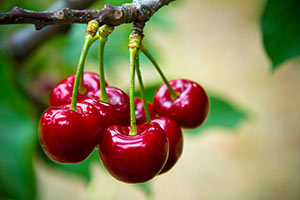 Wild Cherry Hibiscus is a bit of a free spirit. It combines carefree notes of sweet cherry with the direct tartness of hibiscus and rosehips. Naturally sweet with a hint of spice, Wild Cherry will take you on an enthralling journey that will leave you uplifted and carefree. For those who really love tea, having a favorite tea can be like having a favorite child, but we have to admit we're partial to this spirited hibiscus blend.
Tasting Notes: cherry candy, fruit punch
Wild Cherry is straightforward tea; an honest blend of sweet cherry and tart hibiscus. These simple flavors create a compelling blend of pure fun and enchantment. Lighthearted, sweet and down to earth, it's impossible not to love this wild child.
Ingredients: Hibiscus blossoms, apple pieces, rosehip, raisins, cherries and natural flavor.
1.5 tsp Per Cup
212°
4-8 Minutes
Savoring Your Experience:
Wild Cherry tastes wonderful hot or iced. Or mix it with lemonade and fresh strawberries for a unique twist on an Arnold Palmer. Pair Wild Cherry with any berry dessert, such as blackberry cobbler, mixed berry pie or a blueberry parfait.
Fun Facts:
Wild Cherry is a joyful melange of hibiscus, apple pieces, rosehips, raisins and cherries, which also means it is full of antioxidants and vitamin C. We love Wild Cherry for its invigorating flavors, but it doesn't hurt to know that it's good for you, too!