The Pear Cinnamon Experience: ambrosial, succulent, relaxing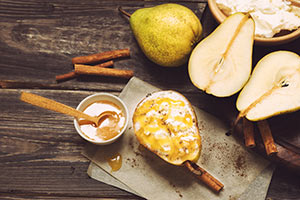 This tea is like taking a bite out of an orchard-fresh pear. The flavor of sweet, juicy pear lingers in your mouth long after the last sip of tea. Regardless of the time of year, drink this tea anytime you could use a whiff of summer air.
Tasting Notes: pear crisp, apple tart
This tea is full of sublime fruity notes of pears and apples. A hint of warming cinnamon adds depth, while bright hibiscus and rosehips lend their customary tangy sweetness. The cinnamon is very subtle, while juicy pear steals the show.
Ingredients: Apple pieces, hibiscus, rose hip peel, pineapple cubes, cinnamon pieces, flavoring, sunflower blossoms.
1.5 tsp Per Cup
212°
4-8 Minutes
Savoring Your Experience:
Pair Pear Cinnamon (no pun intended!) with sweet treats like almond-ambrosia fruit salad, vanilla poached pears or plum cake with lavender-honey ice cream.
Fun Facts:
Pears are in the same family as the apple. With cultivation dating back to 5000 B.C., pears are one of the oldest fruits grown by humans. They are a good source of vitamin C, and can be useful in treating inflammation of mucous membranes, arthritis, high blood pressure and high cholesterol levels. Sweet!