The Strawberry Fields Hibiscus Fruit Tea Experience: bold, berry sweetness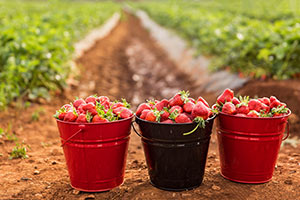 A delicious bouquet of colorful garden blossoms and fruit, this herbal infusion is sure to "wow" you.
Tasting Notes: fruity, luscious, tart
This fetching tisane engages you immediately. Aromas of fresh fruit and berries stir your senses. Along with hibiscus blossoms and black currants, the treasures of elderberries and three other types of berries create a flavorful brew. Apple pieces round out the cup with smoothness. All of the flavors meld together into "dessert in a teacup".
Ingredients: Elderberries, hibiscus blossoms, apple pieces, black currant, natural flavor, blackberries, strawberry and raspberry pieces, wild strawberry leaves.
1.5 tsp Per Cup
212°
4-8 Minutes
Savoring Your Experience:
Naturally caffeine free, this tisane is a favorite for many reasons. Drink it day or night, hot or over ice. It's packed with vitamin C as well as antioxidants. It's a perfect drink for children - ideal for the whole family.
Use fresh water, just off boil, to brew this blend. Steep it for about five to six minutes. If you'd like a less tart hibiscus flavor, simply steep for five minutes or less.
Fun Fact:
In addition to the healthful vitamins and antioxidants all the berries in this blend offer, elderberries may also lower cholesterol, boost the immune system, improve heart health and improve vision. Awesome!