The Black Cherry Black Tea Experience: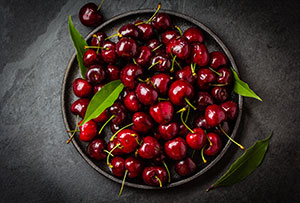 fruity, lively, fresh

This tea is a delight in summer or winter. Sip it piping hot or chug it ice cold. Either way, you're in for a treat!
Tasting Notes: sweet tarts, cranberries, cherry preserves
Bold notes of cranberry and cherry make this tea pleasantly tart. Hints of sweet apple add a delicious finish. This tea is literally mouth-watering, with the tart notes inducing a pleasant mouth-watering sensation. With every cup you're left feeling hydrated and refreshed.
Ingredients: Organic Black Tea, Organic Hibiscus, Organic Rose Hips, Safflower, Cranberries, Raisins, Flavor
1.5 tsp Per Cup
203°
3-5 Minutes
Savoring Your Experience:
Try Black Cherry Black Tea iced with a splash of lemonade or cherry juice and sliced strawberries for a summertime cooler. If you have a sweet tooth, sip this tea every time you feel the urge to snack on something sugary. Black Cherry Black Tea's candy-like flavor may be enough to satisfy your craving!
Fun Facts:
Hibiscus 'flowers' (technically calyxes, the bases of the flowers) give Black Cherry Black Tea its tangy flavor and rosy red color. Hibiscus tea is traditionally used to lower blood pressure and cholesterol. Regardless of the medicinal properties, taking time out of your busy schedule to enjoy a cup of Black Cherry Black Tea is sure to help you de-stress when life gets crazy!