The Orange Sunrise Herbal Tea Experience: spirited, lively, dynamic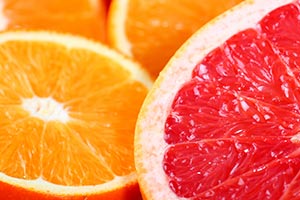 This herbal infusion embodies the qualities of grapefruit as it is expressed by its Latin name, Citrus paradisi.
Tasting Notes: brisk, bright, herbal
This herbal infusion is packed with flavors: bold citrus, and hints of hibiscus. The marvelous variety of colors – greens, oranges (including dried orange sections) and yellows delight the eye. When brewed, the bright pink infusion sparkles with the sheen of hibiscus flower. Lemongrass, tangerine, apple and carrot pieces come together to create an abundant, juicy brew. Eucalyptus leaves add a surprising, slightly grassy herbal note. The aroma brings forward the fruity sweetness. This absolutely delicious composition marries the best of tart citrus with balancing herbs for a satisfying cup. The aftertaste settles on your taste buds and lingers, drawing out the enjoyment of the infusion...
Ingredients: Apple pieces, carrot flakes, blackberry and eucalyptus leaves, beetroot pieces, hibiscus flowers, lemon grass, natural flavor, tangerine and orange slices.
1.5 tsp Per Cup
212°
5 Minutes
Savoring Your Experience:
Orange Sunrise is an herbal beverage that you can steep as long as you like - it won't get bitter or overly flavored. It is particularly great over ice, and since it's naturally caffeine free, it can be savored any time of the day (or night!).
Pair the tart and tangy sweetness of this blend with a fresh green salad topped with a tangy vinaigrette or a cold udon noodle dish with ginger dressing. For a festive, culinary twist, combine this herbal tea with honey and a bit of sparkling wine and use it a decadent dressing on a fruit salad.
Fun Facts:
This award-winning infusion is packed with natural vitamin C. In addition to having natural benefits in the citrus, hibiscus and lemongrass, it's a deliciously healthful beverage you'll love to drink.