The Chamomile Herbal Tea Experience: pure bliss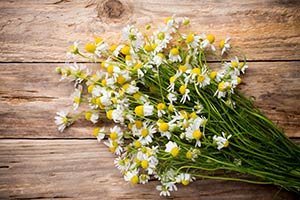 Relax and let your stresses drift away with the finest whole chamomile blossoms.
Tasting Notes: sweet, soothing, & bright
This classic herbal tea flaunts big, beautiful chamomile blossoms. Light, sweet and fresh, with apple and floral undertones. This caffiene free golden brew is the perfect nightcap.
Ingredients: Chamomile Blossoms.
2 tsp Per Cup
212°
8 Minutes
Savoring Your Experience:
Try this naturally caffeine free gem with a little honey late in the evening to soothe the body and aid with sleep.
As an herbal infusion, you can steep it for as long as you like and it won't ever get bitter or too strong. If you are looking for a natural remedy, this is a great one -Chrysin is a specific flavonoid found in chamomile and has been shown to help anxiety.
Fun Facts:
While Chamomile is most widely known to promote sleep and relaxation it can also help in so many other ways including regulating blood sugar, inflammation, heart health and so much more. This little blossom is flat out awesome.