The Peppermint Herbal Tea Experience: satisfying, fresh, stimulating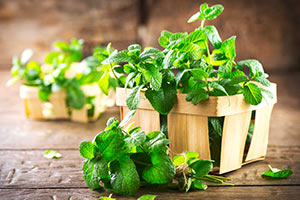 Peppermint herbal tea is a timeless classic. Like peppermint candy without all the sugar, this tea leaves a pleasant cooling sensation in your throat. Clean, sweet and invigorating, this is our go-to herb whenever we need to clear our head or get a caffeine-free pick-me-up.
Tasting Notes: peppermint candy, mint ice cream
Peppermint tea is a simple herb, but it is bursting with flavor. Bright notes of peppermint candy and creamy mint ice cream fill each sip. And the mouthfeel is smooth, with deep earthy undertones. Sip our premium peppermint and you'll experience what's so special and satisfying about a cup of pure minty bliss.
Ingredients: Pure peppermint.
1.5 tsp Per Cup
212°
5 Minutes
Savoring Your Experience:
Enjoy peppermint tea by itself, or add a pinch to your favorite tea blend to create your own fusion tea with a minty finish. Peppermint tea tastes great both hot and iced. Often used as an aid for digestion, it is the perfect tea to serve as a digestif after a heavy meal.
Fun Facts:
Peppermint has been around for centuries. It is interesting to note that it is actually a hybrid mint (a cross between the watermint and spearmint) and can grow in most habitats. The aroma is very stimulating and powerful, and has been found to enhance memory. Peppermint has a high amount of menthol and is said to ease such problems as IBS, nausea, vomiting, headaches and colic. Peppermint has also been shown to have muscle relaxant properties and is believed to control mild asthma, manage stress and help ward off the common cold. Plus, it's delicious, peppermint is one of the most popular flavor additions in the world.