The Chamomile Lemon Mint Herbal Tea Experience: a field of wildflowers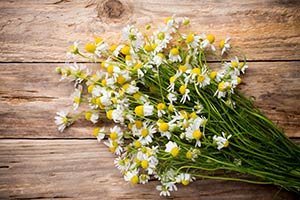 This golden brew offers a soft, minty aroma and a whiff of citrus. First it delights the palate, then enlivens the mind and soothes the body. Light and smooth, with ample herbaceous notes, this blend delivers mild floral sweetness and is an uplifting treat.
Tasting Notes: sweet, soothing, bright
Chamomile, lemongrass and mint together produce a fragrant and calming cup. The tang of lemongrass is joined by mint leaves to enliven the smooth chamomile.
This blend holds a trifecta of healthy ingredients. Chamomile is known for its calming effects and may help you relax and ease tension. Peppermint may ease an upset stomach and relax sore muscles. And lemongrass helps with inflammation.
Ingredients: Chamomile, lemongrass, peppermint leaves.
2 tsp Per Cup
212°
8 Minutes
Savoring Your Experience:
Try this naturally caffeine free gem late in the evening to soothe the body and aid with sleep.
As an herbal infusion, you can steep it for as long as you like and it won't ever get bitter or too strong. If you are looking for a natural remedy, this is a great one -Chrysin is a specific flavonoid found in chamomile and has been shown to help anxiety.
Fun Facts:
Zippy lemongrass is not only flavorful, but also good for you. Lemongrass may be helpful in calming muscles and nerves, and may help promote sleep. Plus it cleanses toxins from the body, as a result of its diuretic properties.