The Masala Chai Black Tea Experience: fragrant, spiced and organic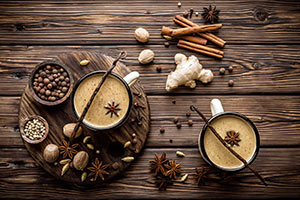 Once, all the chai in India was organic. It was hawked on the streets, brewed in tiny kitchens, sold on crowded trains… and it was all organic. Within the last century, that has changed significantly and, sadly, organic chai in India is incredibly rare now. However, an organic movement is slowly growing in India, and organic chai is gradually becoming much more than a thing of the past.
Tasting Notes: ginger, cinnamon, vanilla
Like many classic masala chais, this one features a more limited array of spices. It focuses on the fiery flavor of ginger, the sweet spice of cinnamon and the bold astringency of black tea. It's hazy red brew has a creamy aroma that can fill the room and a tingly, spiced aftertaste that lasts and lasts…
Ingredients: Organic masala black tea from India, ginger, cinnamon, green cardamom and natural flavors.
1.5 tsp Per Cup
203°
4-5 Minutes
Savoring Your Experience:
This chai goes with sugar, spice and everything nice. Enjoy it with apple-spice cake, cinnamon-maple bundt cake, pulla (braided Finnish cardamom bread), hot cross buns, monkey bread, cinnamon-sugar cookies, Indian kulfi (sweet, spiced ice cream) or ras malai (like a crustless, cardamom-flavored cheesecake), or gingerbread.
Fun Facts:
Hands down, the best way to enjoy this classic chai is to brew it the way it's enjoyed in India. (With a close eye or a double boiler) simmer equal parts water and (organic!) milk. Toss in your tea and keep simmering. Sweeten it more than you think you need to, and then add even more sugar. Sip it from tiny cups throughout the day.