The Turmeric Chai Black Tea Experience: Bold spice!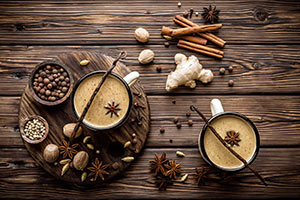 The moment one opens the package, this chai's spicy aroma pervades the senses. The dry leaf of this enlivening spiced tea blend is varied with clove stems and flowers, peppercorns, green cardamom pods and whole chili peppers. Hearty turmeric lends a bright orange tinge to the brew.
Tasting Notes: Bold and fiery
Nourishing turmeric contains the chemical compound curcumin, which is well-known for its potentially potent anti-inflammatory effects. It is also known to contain antioxidants, prevent inflammation and boost the immune system.
Ingredients: Black tea, cinnamon pieces, turmeric, ginger, aniseed, black pepper, cloves, cardamom, whole chili peppers
1.5 tsp Per Cup
203°
4-5 Minutes
Savoring Your Experience:
Chai enthusiasts will love this unusually spiced turmeric tea! Brew long and enjoy a strong cup. It's also delicious with a little vanilla sugar and a splash of almond milk to mellow the spiciness.
Fun Facts:
Turmeric, cinnamon, cloves and ginger all offer health benefits. Ginger helps soothe stomach ailments, cinnamon may help to lower blood sugar, turmeric helps fight inflammation and cloves boost immunity. Cheers to your well being!