The Tiger Chai Black Tea Experience: dark, powerful, mysterious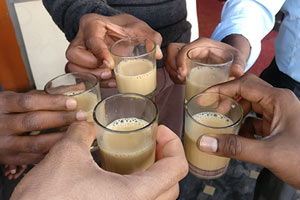 Get conveyed to the jungles of Assam, India, with this bold, dark, lush tea.
Tasting Notes: spicy, tannic, beguiling
Warning: This tea is seriously powerful! From aroma to aftertaste, it is tantalizingly sweet and spiced. It's boldly tannic and rich. And it's completely unafraid to unleash its exotic flavor upon all those who dare to brew it! Watch out for aromas of sweet cardamom, flavors of strong CTC black tea and aftertastes of cinnamon and fennel, a few of the tastes which set this uniquely daring chai blend apart from the rest.
Ingredients: Assam black tiger tea, cardamom, cinnamon, fennel, peppercorn.
1.5 tsp Per Cup
203°
3-5 Minutes
Savoring Your Experience:
In India, chai is typically served in small cups with ample milk and sugar. Our Tiger Chai makes great little "shots" when served this way, and it's also very enjoyable drunk for a mug with less milk and sugar.
When pairing foods with TIger Chai, think Raj Era India. Stay with the safe (British "biscuits") or venture into more exotic fare (Indian kheer or ladoo).
Fun Facts:
CTC tea is a type of tea that was developed in the tea plantations of India. It is the most-produced type of tea in Assam, and is beloved for its especially strong, straightforward flavor. Although many people in India prefer their tea to be particularly astringent and strong-brewed, we recommend starting with a slightly shorter steeping time, then building up to a stronger brew as your palate adapts.