The Very Berry Hibiscus Experience: vivid, enlivening, sweet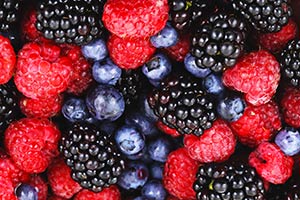 Very Berry Hibiscus is a fruity medley that brings to mind summer days picking blackberries and raspberries. Just like those sweet berries you ate right off the bush, this tea is full of sweet juiciness and a pleasant tartness.
Tasting Notes: berry cobbler, blackberry, raspberry
This tea is an attention-grabber; try Very Berry Hibiscus and you can't help but take note. Lush berry notes explode in your mouth and zingy hibiscus and rosehip make your mouth water. Powerful and zingy, this tea draws you in with luscious notes of raspberry, blackberry and strawberry.
Ingredients: Hibiscus blossoms, rose hip peel, apple pieces, elderberries, blackberries, natural flavor, whole blackberries, strawberry and raspberry pieces.
1.5 tsp Per Cup
212°
4-8 Minutes
Savoring Your Experience:
For pairings, complement the tartness of hibiscus with something sweet, like caramel-pecan pie, chocolate-mint brownies or butterscotch-peanut butter cookies. And of course, let's not forget the berries! Very Berry Hibiscus is perfect with a berry parfait, blackberry cobbler or scones with strawberry jam and cream.
Fun Facts:
This tea is amazing iced. Simply brew it extra strong and pour over ice for a naturally sweet, fruity drink that can replace soda in your fridge. Or add some bubbly club soda and fresh mint for a summertime cooler. Kids and adults are sure to love the classic berry flavor!