The Cocoa Raspberry Yerba Mate Experience: decadent and satisfying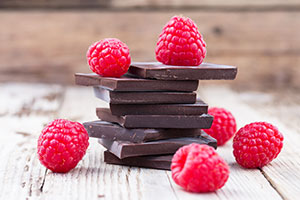 A classic chocolate flavor has come to yerba mate!
Tasting Notes: soothing, berry-rich, chocolaty
Chocolate and raspberries are wonderful by themselves, and are complementary flavors when mixed together. This colorful blend has a berry-forward chocolate aroma. The flavors meld together seamlessly in this chocolate raspberry concoction, which offers quite a gratifying brew. The combination of roasted and green yerba mates and rooibos offers a well-rounded flavor that is sweet, earthy and toasted, with strong cocoa and carob notes. The aftertaste leaves you with a decadent, lingering, creamy sweetness...!
Ingredients: Roasted mate, Green mate, cocoa nibs, rooibos, honeybush, chicory, cocoa powder, carob chips, almonds, raspberry bits, raspberry leaves, marigold, safflowers, and flavor.
2 tsp - 1 tbs Per Cup
180°
3-5 Minutes
Savoring Your Experience:
Add to the indulgent flavors of this infusion by sprinkling in some raw sugar and a splash of your favorite type of milk. This blend can be a delightful dessert beverage or an indulgent way to start your morning.
Fun Facts:
Cocoa and raspberries seem like a match made in heaven! The sweetness of both act as a bridge between the tartness of berries and the bittersweet character of cocoa. In this blend, yerba mate and rooibos echo the boldness of cocoa and the sweetness of the pairing. The result? Pure bliss...