The Juicy Fruit Yerba Mate Experience: complex, earthy, fruity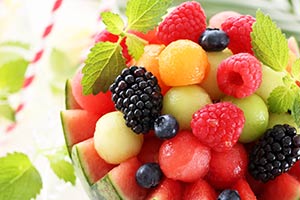 This unique combination merges tangy pomegranate and sweet melon into a surprisingly complex tea. Every sip takes you on a journey of flavors that is sure to intrigue and delight.
Tasting Notes: candied apple, rainforest, campfire
As you sip this rich golden infusion, piquant pomegranate with a wave of woodsy yerba mate come to the forefront. Then as the tea travels down your throat it develops into a full-bodied fruity sweetness, leaving you in the end with a hint of juicy melon, roasted apricots and a whisper of smokiness. Is this what morning dew in a tropical rainforest tastes like to a macaw? We can only imagine that it does.
Ingredients: Yerba maté, green rooibos, rosehips, orange peels, lemon verbena, cornflowers,safflowers and natural flavor.
1 tbs Per Cup
180°
3-5 Minutes
Savoring Your Experience:
Enjoy this tea with something that melds sweet and sour: Tart cherry preserves on a frosted orange scone, or Persian stews with chicken and pomegranate.
Fun Facts:
Melons originated in Africa and southwestern Asia, but have since expanded in popularity around the world. This quintessential summer fruit contains Vitamins A and C, as well as lycopene - all potent antioxidants.