The Roasted Cocoa Mint Yerba Mate Experience: Awaken your senses...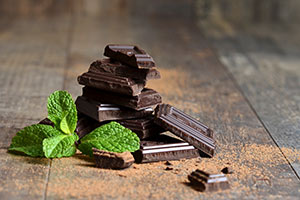 This thoroughly satisfying mate blend tastes like a chocolate mint truffle in liquid form—a must for chocolate lovers!
Tasting Notes: creamy, mint-chocolate, malt
Carob chips, cocoa nibs and golden marigold petals are the first cue of how dazzling this blend is. The dark, thick infusion gives off aromas of spearmint and chocolate that draw you in deeper. Earthy roasted mate, nutty rooibos, and sweet honeybush create a solid triad base for this fully flavorful blend. More richness and complexity is reached with spearmint, cocoa nibs, and almonds. With a character similar to black tea, or a bit like coffee, this is a unique, enjoyable beverage. In the aftertaste, the crisp-tasting mint invigorates while leaving the palate feeling refreshed and cleansed.
Ingredients: Roasted mate, spearmint, cocoa nibs, rooibos, honeybush, chicory, cocoa powder, carob chips, almonds, marigold, flavor.
2 tsp - 1 tbs Per Cup
180°
3-5 Minutes
Savoring Your Experience:
Roasted mate has a pleasingly smooth, roasty character that pairs well with many foods. In the morning, team your mate up with granola topped with yogurt and bananas. For an afternoon lift, enjoy this cocoa-mint mate with a couple dark chocolate coated wafer cookies.
Fun Facts:
Mate can get you through the entire day with an energy boost free of negative side effects. Unlike coffee, mate is gentle on the stomach, and yerba mate leaves contain 24 vitamins and minerals, 15 amino acids and abundant antioxidants. Folks who drink yerba mate report increased mental clarity and focus, and more energy.