The Extreme Mango Yerba Mate Experience: fresh, fruit-loaded, exotic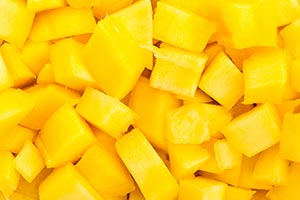 Did someone say fruit-forward? This tea is a luscious explosion of fruit and tropical sweetness. From the big chunks of mango and pineapple in the loose tea, to the heady fruit notes in the infused tea, Mango Mate is a satisfying fruit medley from start to finish.
Tasting Notes: mango, tangelo citrus fruit, frangipani flowers
Notes of ripe mango make this tea juicy and sweet, while a hint of citrus plays in the background. Yerba mate offers a pleasant bite that complements the tropical fruits perfectly.
Ingredients: Green yerba maté, sunflowers, pineapple cubes, mango cubes, orange slices, tangerine pieces, safflower, marigold blossoms, strawberry slices, natural flavor.
2 tsp - 1 tbs Per Cup
180°
3-5 Minutes
Savoring Your Experience:
Mango Mate's sweet tartness pairs wonderfully with fruity, creamy desserts. Serve it with coconut mango pudding, pineapple upside-down cake or orange pound cake with whipped cream.
Fun Facts:
Move over bananas—mangoes are considered the most widely-consumed fruits in the world. Related to cashews and pistachios, the mango is native to India and southeast Asia. While mangos are usually enjoyed when they are golden yellow and ripe on the inside, it's popular in many countries to enjoy green mangoes with chili salt!