The Roasted Pumpkin Yerba Mate Experience: full-bodied, comforting, herbaceous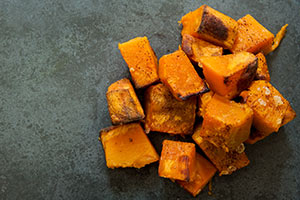 As the leaves fall and the warmth of the summer season begins to fade take comfort in knowing this cozy autumn roasted mate tea blend will be waiting for you.
Tasting Notes: roasted, spice, caramel
Like pie fresh out of the oven, the warm roasted aroma of Pumpkin Yerba Mate draws you in immediately. This seasonal infusion is blended with warming spices for beautiful autumn colors and flavors. The distinctive tastes of ginger, mace and cream are pleasantly sweet, but not overly so. The roasted mate and rooibos melds perfectly with the other flavors and spices. Buckwheat, sweet potato and pumpkin seeds add a woody, savory taste, while candied peanuts layer on another unique note to the overall blend. The result is rich and satisfying... a perfect way to start your day.
Ingredients: Roasted mate, organic honeybush, organic rooibos, cinnamon, buckwheat, toasted rice, ginger, pumpkin, caramel, vanilla, flavors, toffee, nutmeg, mace, pumpkin seeds, sea salt, stevia.
2 tsp - 1 tbs Per Cup
180°
3-5 Minutes
Savoring Your Experience:
This mate blend is a great alternative to your typical pumpkin coffee drinks. It offers an energy boost without the side effects associated with coffee, like energy crashes, jitters and addiction. Plus, the leaves of the mate tree contain 24 vitamins and minerals, 15 amino acids, abundant antioxidants.
But it's not just good for you. It's also delicious! If you're seeking a latte-like flavor in this blend, add a little more of your favorite milk and a dash of raw sugar.
Fun Facts:
In Argentinean villages, it is a ritual for small groups to sit in circles and pass around a traditional yerba mate drinking gourd and bombilla (filter-tipped straw used to drink yerba mate). The mate is passed around the circle in a clockwise direction. Mate can be re-steeped many times, so the gourd is passed around in this social setting until the water source at the circle runs out. Create your own yerba mate ritual with this earthy, comforting herb.