The Green Yerba Mate Experience: green, earthy, classic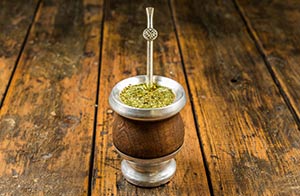 This straightforward, traditional green yerba mate offers a ton of flavor and benefit in one single ingredient.
Tasting Notes: grassy, vegetal
Short flat leaves of the wild yerba mate shrub steep into a light green infusion packed with an strong earthy flavors. Similar to some green teas, this unroasted green yerba mate has an aroma reminiscent of a plowed field or freshly cut grass. Its slightly vegetal, herbal flavor is both fortifying and satisfying.
Ingredients: Organic green yerba mate.
2 tsp - 1 tbs Per Cup
180°
3-5 Minutes
Savoring Your Experience:
Use water just under a boil to bring out the full flavor of the yerba mate without turning the leaves and twigs bitter. Drink this classic mate as your every morning drink for an energetic start to your days.
Fun Facts:
The leaves of the mate tree contain 24 vitamins and minerals, 15 amino acids and abundant antioxidants. It is often said that yerba mate triumphs as the most balanced drink, offering both nutrition and an energy boost without the side effects associated with coffee (i.e., energy crashes, jitters and addiction). Cool!