The Chai Spice Yerba Mate Tea Experience: bold, masculine, invigorating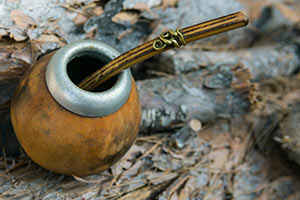 Men, take note: This is a really yang tea! It's a complex, innovative and invigorating blend of high-caffeine, woodsy green yerba mate with a handful of piquant chai spices.
Tasting Notes: pungent, green wood, spice
Green yerba mate gives this blend a manly, pine-like flavor of green wood. Ginger and peppercorns deliver a fiery punch. And cloves and other spices produce a sophistication and complexity that set this blend apart from your usual yerba mate.
Ingredients: Green mate, cardamom, cinnamon, peppercorn, ginger bits, star anise, and cloves.
2 tsp - 1 tbs Per Cup
180°
3-5 Minutes
Savoring Your Experience:
Chug it at the gym. Guzzle it on a camping trip. Gulp it at the office. Just don't sip it!
Fun Facts:
Really wanna kick things up a few notches? Make Chai Spice Yerba Mate into a "dirty chai latte" by adding foamed milk, dark honey and a shot of espresso.