The Tropical Tulsi Tea Experience: pure relaxation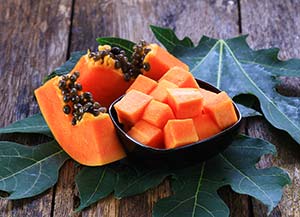 Picture yourself resting in a hammock on an exotic isle, with a tall glass of iced tea in your hand. Tropical fruit aromas waft from the glass in the island breeze. You take a sip, and feel your thirst quenched. This is the Tropical Tea experience.
Tasting Notes: juicy, papaya, sweet-tart
Tasting this tea begins when you open the package. Its aroma is as exotic as its appearance, as it boasts not only a profusion of fruit notes, but also a flamboyant array of tropical colors.
The steeped tea smells of rosehips and papaya. Its lushly tropical flavor balances strong notes of papaya with the sweetness and body of apple bits, the cherry-like tart-sweetness of rosehips and the more familiar flavor of orange peel.
Ingredients: Tulsi herb, papaya pieces, apple bits, rose hips, orange peel and flavor.
1.5 tsp Per Cup
212°
5 Minutes
Savoring Your Experience:
Relax over a glass of iced Tropical Tea, or savor a hot mug of it sip by sip. If you're feeling peckish, pair it with a tropical fruit salad, baked bananas, Thai-style mango sticky rice, or Indian sweets (such as ladoo or gulab jamun).
Fun Facts:
Papaya is indigenous to Central America, but it has been beloved by people around the world since Christopher Columbus dubbed it the "fruit of the angels" and other explorers from his time carried it from Central America to India, the Caribbean and elsewhere in their ships. Papaya is known for its rich, sweet, musky flavor, and is said to be one of the world's healthiest foods.