The Holy Detox Tulsi Tea Experience: purify, cleanse, realign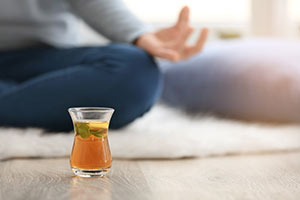 Holy Basil, or tulsi, is the central ingredient in this cleansing blend. As you steep Holy Detox, feel why so many generations before yours have revered this herb for its powerful healing abilities. With each sip, wash away all that is negative, unhealthy or unnecessary in your life.
Tasting Notes: clean, green, bright
From fresh, minty aromas to clear citrus flavors and a lingering floral aftertaste, this blend is clean and bright throughout. Green herb notes of Holy Basil and lemon myrtle are balanced with the depth and tartness of rosehips, the refreshing qualities of spearmint and the flowery flavor of linden blossoms in this harmonious blend.
Ingredients: Holy basil (tulsi), spearmint, rose hips, lemon myrtle and linden blossoms.
1.5 tsp Per Cup
212°
3-5 Minutes
Savoring Your Experience:
For a thoroughly detoxifying experience, sip Holy Detox before or after a meditation or yoga session, or pair it with raw fruits and veggies.
Fun Facts:
Holy Basil and mint are both traditional herbs for purification. Holy Basil is considered to be an adaptogenic herb and is credited as a major stress-buster. Mint is known for its many digestive benefits. Rosehips are very rich in vitamin C, lemon myrtle has a high concentration of citral that can have a multitude of benefits and linden blossoms contain the powerful antioxidants call flavonoids to naturalize free radicals.