The Coconut Pouchong Tea Experience: tropical, seductive, intoxicating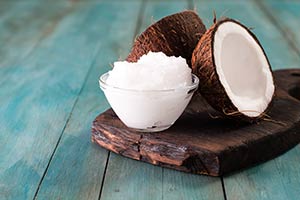 Get seduced by the sweet, breezy flavor of this coconut-centric oolong.
Tasting Notes: sweet, floral, lots of coconut
The blue-green leaves of this Pouchong (or 'Baozhong') oolong tea are enhanced by slivers of dried coconut. An intoxicatingly sweet coconut aroma is apparent in the dry leaf as well as the brew. The complex flavor provides plenty of flavors to uncover as you sip: enticing coconut, floral notes, rich green tones, a sweet aftertaste. Note the creamy mouthfeel, akin to fresh coconut milk.
Ingredients: Pouchong tea, coconut, blue cornflowers, natural flavor.
1.5 tsp Per Cup
190°
3-5 Minutes
Savoring Your Experience:
There are two ways to pair Coconut Pouchong. You can stay with the theme of coconut and pair it with coconut macaroons or coconut cake. Or you can use its sweet, coconut flavor as a foil for a salad of microgreens and toasted walnuts, a grilled fish with orange glaze, or a delicately spiced Indian curry.
Fun Facts:
Pouchong / Baozhong tea is a type of green oolong. It is lightly oxidized, so it has a flavor that is at once reminiscent of a green tea and an oolong tea, yet it's also incredibly floral.
The leaves of this Pouchong tea are tightly rolled, so as you infuse it multiple times, you can taste a shift from the bold coconut flavor of early infusions to more green and floral notes in later infusions.