The Tulsi Chai Tea Experience: Nature's healing blend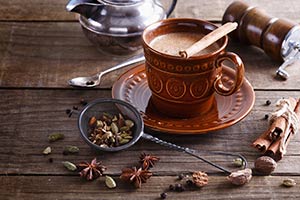 In many parts of India, tulsi is considered to be essential to a good life. It is kept as a houseplant in most traditional homes and is often grown outside temples and shrines. In Ayurveda and folk medicine, it is used as a sort of panacea and is a favorite of grandmothers who are in the know about how to heal and nurture. Don't have a wise Indian grandmother to take care of you? Don't worry—just sip this.
Tasting Notes: herbaceous, bittersweet, spicy
Black tea gives Tulsi Chai a rich, bold flavor. Cinnamon balances the black tea with its spicy-sweet character. And tulsi adds a softer, herbaceous note and pleasing bittersweetness into the mix.
Ingredients: Organic Masala Black Tea from India, Tulsi, Ginger, Cinnamon, Green Cardamom and Natural Flavor
1.5 tsp Per Cup
203°
3-5 Minutes
Savoring Your Experience:
Sip Tulsi Chai on its own and let it do its thing, or try Tulsi Chai as a latte with milk and honey.
Fun Facts:
In the healing tradition of Ayurveda, milk is considered to be one of the most nourishing things you can consume. If you'd like to make a chai latte with Tulsi Chai, we recommend using fresh, organic milk. If milk doesn't agree with you, you can use organic coconut milk or another milk alternative instead.