The Vanilla Matcha Green Tea Experience: the perfect matcha latte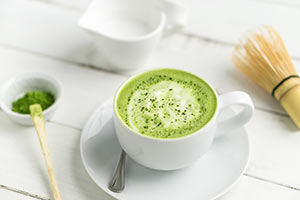 You know matcha is healthy. But you might not know that it's also incredibly delicious…
Tasting Notes: vanilla, sweet, matcha
Thanks to the addition of natural vanilla flavor, this matcha has a sweet taste that's even accessible for those who don't usually like green tea. And yet, it has a balanced enough flavor that even the most serious of tea connoisseurs will enjoy it as a fun break from their routines. The finely milled powder has a powerful vanilla aroma. Foamed with water, milk or milk substitute, it gets frothy and its green notes start to come forward. The flavor is bold vanilla with a grassy kick and hints of coconut. It's sweet, even without any sweetener at all.
Ingredients: Organic Japanese green tea powder, natural vanilla.
165°
1 tsp Per Cup ~ Mix to a frothy consistency
Savoring Your Experience:
This is the ideal latte tea! You can prepare it in a blender, with a milk foamer or with an electric whisk / milk frother. Any way you choose, add a little warm water to the powder to make a paste, then add a little more to make it more like a syrup. Mix the syrup into your hot or cold water, milk or milk substitute with your blender, foamer, whisk or frother, and, viola! A fantastic matcha latte at a fraction of the cost of a coffeehouse drink!
Fun Facts:
Flavored matcha teas used to be eschewed by serious tea geeks in America. However, their popularity rose sharply in Japan in recent decades, and American tea lovers are finally following suit! Similar to the flavored matcha drinks Japanese people enjoy in Japan (red bean, cherry blossom, etc.), American tea drinkers love their matcha with familiar flavors (e.g., vanilla). We hope you'll love this flavored matcha as much as tea drinkers in Japan love their red bean matcha. Kanpai! (Drink up!)