The Green Walnut Tea Experience: traditional meets tropical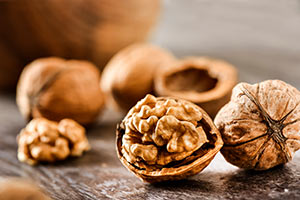 This playful organic green tea blend combines the rich tastes of nuts and maple with bold tropical fruit flavors for a flavor that is new yet familiar, and tropical yet traditional.
Tasting Notes: beckoning, nutty, luscious
This organic green tea gets its oomph from the addition of sweet maple brittle, tangy pineapple bits, tropical coconut and rich almonds and walnuts. The result is a balanced and totally delicious blend you're sure to love.
Ingredients: Organic green tea, pineapple, coconut, walnuts, almonds, natural flavors, maple brittle.
1.5 tsp Per Cup
175°
2-3 Minutes
Savoring Your Experience:
For a little more sweetness, add a dab of forest honey to your cup or Green Walnut. For an out-of-this-world pairing, team it up with carrot cake, almond biscotti, coconut macaroons or an organic breakfast of muesli with yogurt, fruit and nuts.
Fun Facts:
Next time you brew up a pot of Green Walnut, take a moment to read up on the fascinating history of walnuts.
Did you know?
According to ancient texts, walnuts have been consumed since 7000 B.C.E. That's a long time!
Walnuts were once reserved for royalty only.
The ancient Romans called walnuts Julans regia, or 'Jupiter's royal acorn'.
Walnuts originated in Persia, and were gradually exported to other parts of the world, mostly by the British. Hence, they came to be known as 'English walnuts'.
A traditional health remedy in China is to roll two walnuts (in their shells) around in the palm of one hand. This practice led to the development of 'Chinese medicine balls'. These days, antique walnut 'medicine balls' are especially prized by collectors.