The Red Bush Chai Tea Experience: warming, caffeine-free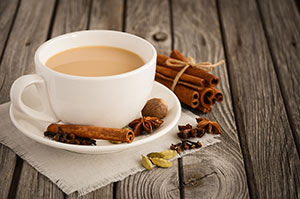 Ah, chai... so warming, so sublime! This chai variation is naturally caffeine free.
Tasting Notes: spicy, creamy, rich
Like classic chai blends, our Red Bush Chai supplies a potent mix of warm spices. A focus on cinnamon, ginger and cloves deepens the piquancy of this blend, while organic rooibos give it a bit of sweetness.
Ingredients: Organic rooibos, cardamom, cinnamon, natural flavor, orange peel, ginger, cloves.
1.5 tsp Per Cup
208°
5 Minutes
Savoring Your Experience:
Although most chai is served with sugar, our Red Bush Chai is sweet enough on its own. If you want to add something, pour in a bit of milk. Yum!
You can also try Red Bush Chai with a snack or dessert. It goes great with biscotti, shortbread cookies, roasted nuts or lemon pound cake.
Fun Facts:
Most chai is made with black tea, but our Red Bush Chai is different. It's made with naturally caffeine-free rooibos, so it's a great beverage for any time of day.