The Pina Colada Hibiscus Blend Experience: brilliant, tropical, refreshing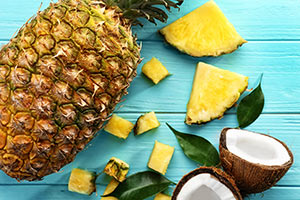 This flavorful hibiscus blend will transport you to the tropics with its sweet, creamy, delightful flavors. It's the perfect escape.
Tasting Notes: creamy, luscious, tart
This tempting hibiscus infusion delights the senses. Its bright color in the cup (or the glass full of ice!) invites you on a flavorful journey. The aroma is pure, milky coconut. Lively hibiscus blossoms and rose hips add tartness while pineapple pieces add sweetness. The coconut and apple pieces round out the blend with a decadent creaminess. This is dessert in a cup!
Ingredients: Apple pieces, hibiscus blossoms, rose hip peel, pineapple cubes, coconut shreds, flavor.
1.5 tsp Per Cup
212°
4-8 Minutes
Savoring Your Experience:
This blend has lots of natural fruity sweetness. It's warming and delectable hot and it's revitalizing over ice. For iced tea, steep as usual, add sweetener of choice while you steep, and pour the strained tea over ice a full glass of ice. If you want it a little less tart, just brew for less time. For an especially smooth flavor, try cold brewing it in a pitcher overnight in the refrigerator. Delicious on a hot summer day!
Fun Facts:
The beloved tropical drink known as the "Pina Colada" is believed to have been created in the 1950s in San Juan, Puerto Rico. The classic drink is made with rum, pineapple juice and coconut milk and might just be the most popular rum drink ever.