The Blueberry Muffin Hibiscus Blend Tea Experience: snappy, bright, velvety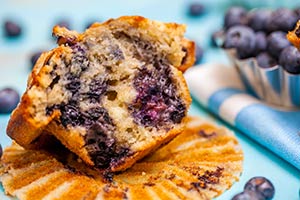 This fruit tisane is an absolute treat. Its notes of baked-goodness are balanced by the tartness of blueberries and hibiscus for a flavor that is at once tart and silky.
Tasting Notes: creamy, juicy, smooth
Brewed, our Blueberry Muffin Hibiscus is deep red, dark and thick. Its aroma is suggestive of blueberry muffins baking in the oven. The intense flavor of sweet, ripe blueberries is combined with notes of apple, caramel and vanilla. The combination of rose hips and yogurt pieces add a surprising bit of tartness, while the creamy aftertaste turns a bit fruity.
Ingredients: Apple pieces, hibiscus pieces, rose hip peel, caramel pieces, flavoring, yogurt and blueberry pieces, blue mallow petals.
1.5 tsp Per Cup
212°
4-8 Minutes
Savoring Your Experience:
Sip this aromatic blend on it's own for a cake-like treat, or pair with a bit of coffeecake or shortbread. If you're in the mood for lighter fare, serve with a bowl of fresh, raw blueberries. And although we usually prefer it piping hot, this tisane is also delightful when allowed to cool to room temperature, so the flavors meld and mellow out.
Fun Facts:
Blueberries are naturally packed with antioxidant power and nutritional benefits. As one of the few fruits native to North America, blueberries have been enjoyed by Americans for hundreds of years. They grow wild, and are cultivated for a number of uses in foods like jellies, jams, syrups, vinegars, fruit salads, frozen yogurts and smoothies.