The Honey Mead Black Tea Experience: intense, fruity, sweet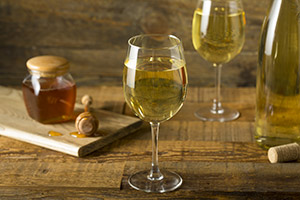 Honey Mead Black Tea puts a new spin on the term "tea drunk". It is said that drinking a lot of tea can give you a euphoric "buzz" from the combination of energizing caffeine and relaxing L-theanine in tea. Honey Mead Black Tea may not contain alcohol, but its powerful fruity notes and sublime sweetness are truly intoxicating!
Tasting Notes: honey, ice wine, gardenia
Forward notes of muscat grape and fruit compote greet you as soon as you smell the tea, carrying over into the infusion as well. Intense notes of honey and tart cherries play on the tongue while a quiet hint of gardenia lingers at the back of your throat.
Ingredients: Black tea, apple pieces, sultanas, apple cubes, flavor, cherry pieces, propolis.
1.5 tsp Per Cup
203°
3-5 Minutes
Savoring Your Experience:
This tea can stand up to stronger meals like lamb stew, coconut milk curry with chicken, and fig and olive tapenade with flatbread. At the same time, Honey Mead Black Tea is sublime by itself or as a chaser. For dessert, pair it with raw honeycomb and artisanal cheese, baked toffee apples or bread pudding.
Fun Facts:
Everything old is new again. Honey Mead Black Tea honors two ancient beverages: Mead, the world's oldest alcoholic beverage, and tea, another of the world's oldest beverages. Mead is made by fermenting honey and water, sometimes with the addition of fruits and spices. Sip this tea and celebrate the complementary oppositions in life: old and new, light and dark, sweet and savory.