The Winter Solstice Experience: cozy, bright, warming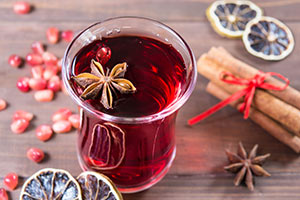 Winter Solstice is a cheerful, comforting blend of sweetness with a hint of spice. Warming notes of star anise and cinnamon bring to mind memories of Christmas morning, while tangy apple and hibiscus add a crisp note and fragrant orange peel rounds it out. The result? An inspiring blend that's perfect all year 'round!
Tasting Notes: mulled cider, candied orange, vanilla
Sweet fruity notes, spice and a hint of creamy almond create an enticing blend, reminiscent of spiced coffee cake with almond buttercream. Winter Solstice is light and bright: the perfect tea to represent hope for the new year and the coming spring.
Ingredients: Apple pieces, orange peel, hibiscus blossoms, blackberry leaves, almonds, carrot, star aniseed, cinnamon, flavor, silver linden blossoms, cranberry, pomegranate arils, and rose petals.
1.5 tsp Per Cup
212°
5 Minutes
Savoring Your Experience:
Winter Solstice is the perfect tea to serve after a holiday feast. Sweet and refreshing fruity notes will cleanse the palate, while earthy star anise and cinnamon may help aid digestion. Adding a small pinch of sweetener will help the spice notes shine through, and as an iced tea, orange and star anise flavors come to the forefront.
Fun Facts:
Winter Solstice, also called Midwinter or Yuletide, symbolizes hope: it marks the longest night of the year after which the days slowly become longer. It signifies a turning point, marking positive things to come. As you sip this exquisite herbal blend, take a moment to celebrate that the future is indeed full of good things.