The Majestic Mango Fruit Tea Experience: kid-friendly, unusual, award-winning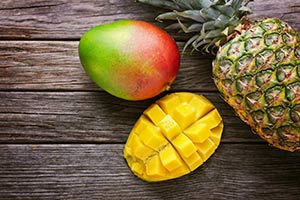 Appearance-wise, this is one of the most unusual blends we've ever seen. (Take a look at the photo and you'll see what we mean!) Between that and its juice-like flavor, it's a top pick for kids.
Tasting Notes: cheery, tangy, exotic
This fruit-centric blend is wildly summery. Tropical fruits brew up into a sunny yellow infusion. The aroma is sweet, exotic and tangy, and the flavor is more like a juice than a tea.
Ingredients: Pineapple cubes, mango cubes, pineapple & mango flakes, orange slices, tangerine pieces, flavor, safflower, marigold blossoms, strawberries.
1.5 tsp Per Cup
212°
8 Minutes
Savoring Your Experience:
Summer sun, here we come! Chilled Majestic Mango is perfect for the lake, the park, the beach, the court. Pretty much anywhere the warm weather takes you. And hot Majestic Mango is a burst of summer on a chilly day. Consider it an antidote to wintertime blues.
Fun Facts:
Sugary juice boxes be gone! Pack lunch boxes with a carafe of this instead (no sugar needed).