The Key West Green Rooibos Experience: bright and cheery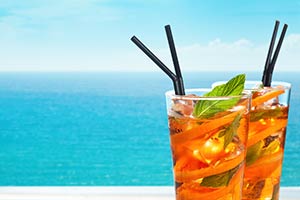 Like a Key West sunset, this tea is cheery and colorful. Alluring green rooibos is sprinkled with rose petals and tropical fruit pieces. Its fresh, light infusion is packed with fruity flavors, while the green rooibos mellows it out.
Tasting Notes: smooth, tropical, fruity
Tropical mango and papaya burst forward, then the woody-grassy base balances the cup. Green rooibos has the mouthfeel of a green tea or light oolong. The resulting brew is lighter-bodied and less piney than red rooibos.
Developed in the last few years, green rooibos has qualities of a smooth green tea without the caffeine – soft, light, subtly sweet. And, you can't over steep it. Green rooibos won't turn bitter no matter how long it brews; in fact, it becomes sweeter as it infuses!
Ingredients: Green rooibos, mango, papaya, orange peel, rose petals, flavor
1.5 tsp Per Cup
208°
5 Minutes
Savoring Your Experience:
Green rooibos is naturally caffeine-free and offers beneficial minerals including potassium, magnesium and iron. Add a splash of this tea to your morning smoothie to give it a healthy boost. For an evening meal, team up a cup of piping hot Key West Rooibos with salmon and veggies, or grilled shrimp and fried rice.
Fun Facts:
Both green and red rooibos come from the same plant, grown in South Africa. The difference between the two is in the processing. Similar to black and green teas, red rooibos is oxidized while green rooibos is not.