The Pumpkin Rooibos Tea Experience: earthy, cake-y, dessert-like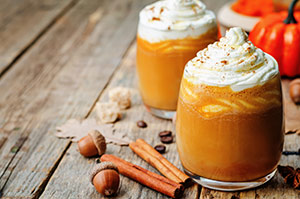 The taste of pumpkin pie in your teacup? Yup, pumpkin pie isn't just for Thanksgiving anymore!
Tasting Notes: roasted, spice, caramel
Like pie fresh out of the oven, the warm aroma of Pumpkin Rooibos draws you in immediately. This South African rooibos and honeybush infusion is blended with warming spices for beautiful autumn colors and flavors. The distinctive tastes of ginger, mace and cream are pleasantly sweet, but not overly so. The rooibos melds perfectly with the other flavors and spices. Buckwheat, sweet potato and pumpkin seeds add a woody, savory taste, while candied peanuts layer on another unique note to the overall blend. The result is rich and satisfying... just like a slice of warm pumpkin pie.
Ingredients: Organic honeybush, organic rooibos, cinnamon, buckwheat, toasted rice, ginger, pumpkin, caramel, vanilla, flavors, toffee, nutmeg, mace, pumpkin seeds, sea salt, stevia.
1.5 tsp Per Cup
208°
5 Minutes
Savoring Your Experience:
Ready for something really decadent? Top your Pumpkin Rooibos with a dollop of sweet, whipped cream and pair it with a bit of shortbread. Delicious!
Fun Facts:
Caffeine-free rooibos and honeybush are delightful alternatives to drinks containing caffeine. They are both touted for their healthful properties. Rooibos has a high level of antioxidants and minerals, including copper, iron, potassium, calcium, zinc and magnesium. Honeybush is traditionally used to help treat coughs and lower blood sugar.