The Blueberries & Cream Rooibos Experience: guilt-free dessert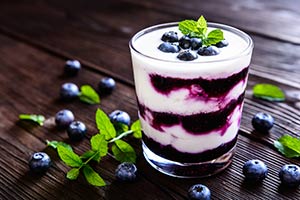 This "dessert tea" offers all the richness of blueberries and cream without any of the repercussions.
Tasting Notes: sweet, juicy, woodsy
This gorgeous herbal blend combines violet-hued cornflowers with orangey-brown rooibos. Infused, Blueberries & Cream is ruby red in color, with aromas of homemade blueberry jam and lightly sweetened yogurt. Flavors of sweet, juicy blueberries meet the sweet, woodsy flavor of rooibos and a subtle (yet essential!) cream note. A lingering aftertaste of fresh, ripe blueberries makes pairing this tea entirely superfluous.
Ingredients: Rooibos, blueberry pieces, cornflower petals and flavor.
1.5 tsp Per Cup
208°
5 Minutes
Savoring Your Experience:
Although it's great with a simple breakfast of yogurt and fresh fruit, there's no need to pair this rich, satisfying tea. Instead, ice it with a bit of honey or dress it up as a soy latte.
Fun Facts:
"Dessert teas" are teas and herbal blends that have rich, sweet flavors akin to those of a dessert. Dessert teas may be chocolaty or have a strong vanilla note. They can be caramel-rich or nutty. Or, like our Blueberries & Cream tea, they can be fruity and creamy. Regardless of the specific flavor profile, dessert teas can be a fantastic, healthy alternative to rich desserts.