The Carrot Cake Rooibos Tea Experience: decadent, exotic & comforting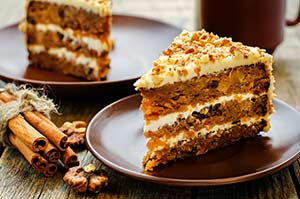 Like a slice of homemade carrot cake, this rooibos blend is decadent and comforting. And yet there's something else there, too... a spiciness and exotic quality that takes the experience a step further.
Tasting Notes: sweet, spiced, satisfying
The autumn colors of this blend hint at its rich, warming flavor. Aroma-wise, it's cinnamon, spice and everything nice. And the flavor follows suit with hints of carrot, coconut, raisins, walnuts, ginger, cloves and maple brittle. The soft, woodsy sweetness of organic honeybush and organic rooibos round out the blend, making it extra soothing and satisfying.
Ingredients: Organic rooibos, organic honeybush, cinnamon, carrots, cloves, walnuts, raisins, ginger, coconut, maple brittle, natural flavor.
1.5 tsp Per Cup
208°
5 Minutes
Savoring Your Experience:
No sweetener needed! This blend is uncannily like carrot cake already.
If you're feeling peckish, pair Carrot Cake Rooibos with cinnamon toast, fresh fruit, biscotti, scones or pound cake.
Fun Facts:
As strange as a vegetable in a cake may seem, carrots have been used as ingredients in cakes since Medieval times. The version of carrot cake that so many known and love today was popularized in the 1960s, and were absurdly popular in the 1970s. Today, the beloved flavor of carrot cake is seeing a revival, especially in gluten-free baking (and, very soon, in your tea cupboard!).