The 50/50 Delight Black Tea Experience: versatile, delightful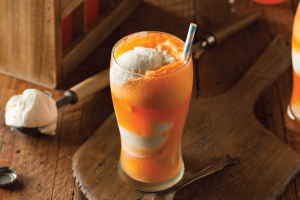 This tea is a delight in summer or winter. Sip it piping hot or chug it ice cold. Either way, you're in for a treat!
Tasting Notes: engaging, uplifting, sweet, bold
Ah, how to describe this tea... Bold and rich. Sweet and sour. Floral, citrusy, complex. A balanced blend of all the best flavors teas and herbs have to offer. It's like the famous tea quote:
"If you are cold, tea will warm you;
If you are too heated, it will cool you;
If you are depressed, it will cheer you;
If you are excited, it will calm you."
It's a tea of all seasons, all tastes and all occasions. Enjoy accordingly!
Ingredients: Black tea, orange peel, coconut, flavor.
1.5 tsp Per Cup
203°
4-5 Minutes
Savoring Your Experience:
Our 50/50 Delight Tea is a delight in the icy depths of winter and the dog days of summer. Brewing it hot is pretty straightforward, but you may benefit from a few tips for preparing it iced. Here's how to savor an especially delightful glass of iced 50/50 Delight every time:
Use two to three teaspoons tea leaves per cup boiling water.
Steep five minutes.
Strain out the leaves.
Add sweetener if desired. Add a little extra, as icing the tea will reduce the sweetness.
Pour over 1.5 cups ice.
Savor with a smile. :)
Fun Facts:
Chefs have long known that opposites attract in the realm of taste. A pinch of salt in a sweet dish, a pinch of sugar in a savory one... these are widely practiced examples of opposites creating fantastic flavors. Our 50/50 Delight Tea takes this approach a step further, integrating four totally different flavors (sweet and sour, rich boldness and delicate floral notes) into one rounded flavor profile. If you prefer your tea a bit sweeter, add honey or sugar to taste.