The Irish Breakfast Tea Experience: a right sturdy cup of tea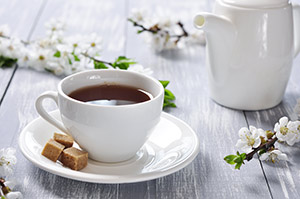 This superb, full-bodied tea is a blend of Chinese and Indian black teas, smooth and robust. It's slightly malty with a brisk finish. With the dark dry leaves and a medium dark red-brown liquor, you know you are in for a bold cup.
Tasting Notes: bold, earthy, hearty
This popular black tea is rich in flavor, body and color with glints of copper highlighting the infusion. Its balance of strong, full-bodied flavor and a touch of sweetness make for a versatile, enjoyable complement to a meal or as a solo beverage. The title is a slight misnomer; you can drink it all day long!
Ingredients: Organic Indian and Chinese black tea.
1.5 tsp Per Cup
203°
3-5 Minutes
Savoring Your Experience:
Irish Breakfast is often enjoyed with milk, and the Irish might not have it any other way.
To enjoy with a meal, you could deploy the adage "eat breakfast like a King, lunch like a prince and dine like a pauper." Serve it with a hearty, traditional, morning meal — think sausage, potato and egg skillet. For lighter fare team it up with a chunky slice of Irish soda bread spread with creamy butter. Or pair it with a rich vegetable curry for dinner.
Fun Facts:
Ireland ranks at the top of tea-consuming countries. The country has quite a love affair with tea, and is said to go through over seven pounds of tea leaves per person each year!