The Cinnamon Roll Black Tea Experience: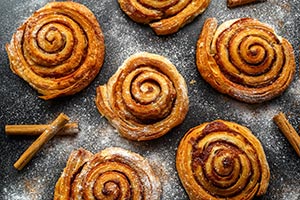 spicy, dessert-like

This tea could easily be a new tea cupboard staple for you. Cinnamon brings this traditional black tea to robust new heights. This is the perfect comfort tea and a flavorful "warm-up in a cup" on a cold day.
Tasting Notes: spiced pastries
Ceylon black tea, spicy cinnamon and distinct creamy notes create a "dessert in a cup" effect in this blend. Aromatic cinnamon and the honeyed flavors of Ceylon tea combine with bread-and-butter creaminess; a rich depth of flavor is achieved. The velvety-smoothness of the Ceylon adds to this exotic brew, making it especially distinct and bewitching.
Ingredients: Ceylon black tea, cinnamon pieces, flavor.
1.5 tsp Per Cup
203°
4-5 Minutes
Savoring Your Experience:
This is the perfect tea to be coupled with traditional afternoon tea fare. Serve a mini Quiche Lorraine, a cranberry scone with creamed butter and a cinnamon raisin chocolate truffle for a full afternoon tea.
Alternately, enjoy this black tea with vanilla almond milk (or your favorite dairy) and dark brown cane sugar. Sip it to wake up, or enjoy it in place of dessert.
Fun Facts:
Cinnamon has been used for centuries as both a spice and a medicine. Usually, the brown bark of the cinnamon tree is dried and rolled into tubular shapes. Cinnamon is often available in either its whole form, a cinnamon stick or as ground powder. The brown bark is also a source for healing essential oils, as well as a source for fiber, manganese and calcium. Interestingly, cinnamon can also be used as a natural food preservative.