The Ceylon Black Tea Experience: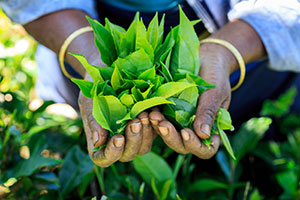 dark, complex, bold

Not for the faint of heart, this is one of the boldest black teas we offer.
Tasting Notes: malty, winey, fruity
The dark, thin leaves of this tea brew into a burgundy-colored infusion with a rich taste akin to a Chianti red wine. Complex, bold aromas of malt and red wine give way to equally complex, bold flavors of rich spices, red fruits, tobacco and pronounced tannins. A slightly puckery mouthfeel and a lingering, tannic aftertaste add to the assertiveness of this unabashed black tea.
Ingredients: Long Leaf Black Tea from Sri Lanka.
1.5 tsp Per Cup
203°
3-5 Minutes
Savoring Your Experience:
If you enjoy a bit of milk and sugar in your tea, then this is an ideal tea for you. It's also fantastic with a bit of dark honey and makes a decadent latte when foamed together with milk and brown sugar.
Fun Facts:
Ceylon tea is named for its origin, the island of Sri Lanka (formerly known as Ceylon). This teardrop-shaped island is located off the southern coast of India and is famed for its tea more than anything else. An incredible variety of landscapes produces an incredible range of teas, and flavors of Sri Lankan tea go all the way from mellow and floral to bold and winey. The bolder Ceylon teas tend to be the ones most tea drinkers prefer, and this Ceylon tea fits neatly into that category.