The Organic White Monkey Tea Experience: rare, wild, charming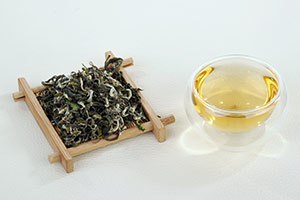 Like its namesake, this uncommon tea is both lovable and untamed.
Tasting Notes: full-bodied, fruity, sweet
The wiry, fuzzy leaves and buds of our Organic White Monkey captivate the senses with their appearance and their complex aromas of cream, hay, toasted nuts and Oriental Beauty Oolong-like fruity-floral notes. The brewed tea is peachy in color, hinting at the flavors of stone fruits yet to come. Light aromas of apricot, seaweed and white flowers give way to a sweet, fruity, floral and surprisingly full bodied flavor profile. A balancing astringency plays out in the flavor and aftertaste alike, ending in a bittersweet note like that of an unripe nectarine.
Ingredients: Organic Chinese green tea.
1 tsp Per Cup
180°
2 Minutes
Savoring Your Experience:
This endearing and whimsical tea is best savored on its own. If you must, add a few drops of honey or pair with a breakfast or granola, oatmeal or fresh fruit.
Fun Facts:
Also known as Bai Mao Hou, Organic White Monkey Tea is unique to the Taimu mountains of Fujian, China. In this region, there are several unique varieties of the tea plant which are said to be the only plants capable of bearing genuine white teas. Our Organic White Monkey Tea is also distinct in that it is organic—a rarity in Fujian.