The Exotic Pomegranate Tea Experience: wild, innovative, uncommon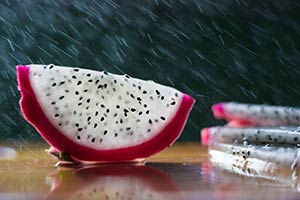 Get a little wild with our Exotic Pomegranate tea. This unusual blend intermixes a surprising array of exotic fruits and teas for a one of a kind experience.
Tasting Notes: tart, sweet, complex
You can get an idea of just how unique this tea is by simply looking at the dry blend. Two green teas (Sencha and Kukicha), a white tea (Bai Mu Dan / Pai Mu Dan), dried fruits (kiwi, dragonfruit, raspberry and pomegranate) and lemongrass create a melange unlike any you've ever seen before.
Brewed, Exotic Pomegranate supplies abundant berry notes and a clear pomegranate flavor. Exotic kiwi and dragonfruit interplay with more familiar notes of lemongrass and raspberry, resulting in pleasantly complex flavor associations. The fruits and herbs are balanced by mellow Pai Mu Dan, sweetly grassy Sencha green tea and clear, mild Kukicha green tea.
Ingredients: Sencha, kukicha, bai mu dan, dragonfruit, lemon grass, flavor, kiwi and raspberry pieces, pomegranate arils.
1 tbs Per Cup
170°
3-6 Minutes
Savoring Your Experience:
The plentiful fruit notes of this blend make it a natural tea to pair with desserts. We love it with tropical fruit tartlets, freshly baked raspberry scones or white chocolate layer bars.
Fun Facts:
Some scholars believe that the infamous fruit of the Garden of Eden was not an apple, but rather a pomegranate. And we can see why! Pomegranate certainly is one of the most tempting fruits there is, even in a paradisaical garden.