The Pumpkin Spice Black Chai Tea Experience: fall in a cup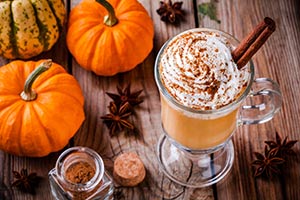 As the leaves fall and the warmth of the summer season begins to fade take comfort in knowing this cozy autumn black tea blend will be waiting for you.
Tasting Notes: spicy, sweet, creamy
Perfectly paired kundaly black tea from India offers an exquisite base that intrigues with notes of walnut. A melody of spices including ginger, cardamom, and clove are balanced with the sweetness of the cinnamon and the creaminess of the pumpkin creates one satisfying cup.
Ingredients: Organic Nilgiri black tea from Kundaly Estate, organic cinnamon, organic ginger, organic cardamom, organic cloves, flavor.
1.5 tsp Per Cup
203°
4-5 Minutes
Savoring Your Experience:
As you begin to prepare this tea let the aroma fill the air. Imagine walking through the leaves, cold, but not too cold, then finding your favorite tea house, and warming mind, body and spirit with Pumpkin and Spice. As with any chai, this blend takes milk especially well. Adding a touch of muscovado sugar and a dollop of whipped cream brings everything together.
Fun Facts:
Our Organic Kundaly is sourced from the Kanan Devan Hills Plantation in Kerela India. This extra special Pekoe grade tea has roasted walnut notes.