The Passion Fruit Black Tea Experience: dreamy, decadent, delightful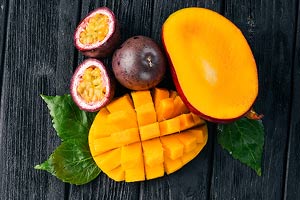 Bold, rich flavors of black tea are enhanced with tangy-sweet passion fruit in this decadent tea. Dreamy floral notes peek through in the rose blossoms, sunflower blossoms and cornflowers.
Tasting Notes: visually splendid, velvety
This tea is a sight to behold. The blazing colors of blossoms and fruit bits draw you in to take a closer look. The aroma is fragrant, floral, sweet. Passion fruit and papaya round out this dramatically beautiful blend, while black tea offers up a velvety, rich mouthfeel.
Ingredients: Black tea, flavor, rose blossoms, sunflower blossoms, cornflower blossoms.
1.5 tsp Per Cup
203°
4-5 Minutes
Savoring Your Experience:
At breakfast, enjoy this bold tea with granola and fresh fruit. In the late afternoon, it's also perfectly paired with tea sweets and buttery, flaky desserts. For a British-inspired treat, try this black tea with pavlova (meringue dessert) topped with passion fruit sauce.
Passion Fruit Black Tea is also wonderful served ice cold, and it makes a good base for homemade kombucha tea.
Fun Facts:
The purple passion fruit is native from southern Brazil through Paraguay to northern Argentina. A local favorite, this fruit is eaten on its own, added to salads and made into sauces, toppings and desserts.