The Lemon Meringue Green Tea Experience: a healthy dessert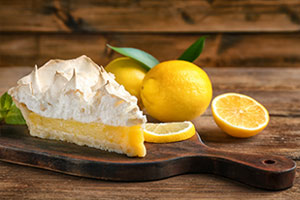 All the tangy-sweetness of a perfectly prepared lemon meringue pie… without any of the regret!
Tasting Notes: sweet, citrusy, savory
The unmistakable aroma of lemon meringue pie billows up from a fresh-brewed cup of this tea. And yet, there's something more to it… the slightly savory scent of pan-fired green tea. The flavor is light and clear, starting more on the citrusy, zesty end of the spectrum and ending with that fresh-baked sweetness you know and love.
Ingredients: Green tea, apple pieces, orange peels, natural flavor, marigold flowers.
1.5 tsp Per Cup
175°
2-3 Minutes
Savoring Your Experience:
Lemon Meringue Green is excellent hot or iced. For an indulgence of another kind, infuse it into vodka (1 Tbsp. per 8 ounces, left to steep at room temperature for 4 hours) as a base for a healthier Lemon Drop Cocktail.
Fun Facts:
The Green Tea at the base of this blend is pan fired, and you might be wondering whether that matters. It does! Steamed Green Teas tend to have a more grassy or oceanic taste. Pan-fired Green Teas tend to be far mellower and smoother, without a trace of 'grass clippings' in their tasting notes. This makes them a perfect base for softer blends like this one.