The Organic Keemun Mao Feng Black Tea Experience: The whisky of tea?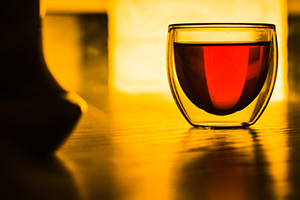 Our bold, masculine Organic Keemun Mao Feng is for those who love the confident, rich taste of whisky, porter beer or a dark stout. It's the charming "his" to the seductive "hers" of our Organic Golden Monkey Black Tea.
Tasting Notes: malty, smokey, bold
Keemun Mao Feng's thin, wiry leaves are the blue-black of a moonless midnight. They emit mysterious aromas of camphor and smoke. The infusion has the color of a Japanese winter squash and the bold, woodsy aroma of a pine-fueled campfire in the distance. The flavor is strong and enticing, with a balance of assertive pine smoke, sweet stone fruit, pure cocoa powder and rich malt. Its surprisingly smooth taste melds into lasting notes of sweetness and smoke, with just a hint of floral influence in the background.
Ingredients: Pure Organic Chinese Black Tea.
2 tsp Per Cup
195°
3-4 Minutes
Savoring Your Experience:
Think of pairing Organic Keemun Mao Feng as you would a good whisky, porter or smoked stout beer. Go for grilled steaks, seared scallops with bacon, smoked duck or brisket, Stilton blue cheese, BBQ ribs, roasted pheasant or partridge, venison stew, a mature cheddar cheese or anything dark and chocolaty.
Fun Facts:
Keemun Mao Feng is one of China's most famous black teas. Although Keemun teas are often bold and masculine, the best varieties (like this one) have subtle floral undertones. To build your palate and find the feminine side of this bold brew, look out for hints of orchid in the finish.