The Hazelnut Honeybush Experience: exotic, rich, nutty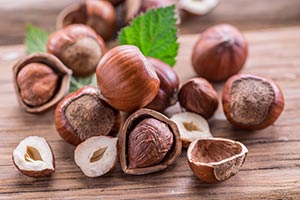 The clean subtle sweetness the honeybush has is perfect to pair with the natural flavor of hazelnuts.
Tasting Notes: creamy, buttery, smooth
The sensations provided by a single cup will kindle your passion for quality tea. It's a refined indulgence with a light, balanced finish. Hazelnut honeybush is a healthy treat anytime of day!
Ingredients: Organic honeybush, natural flavor.
1.5 tsp Per Cup
208°
5 Minutes
Savoring Your Experience:
Hazelnuts are often associated with decadent and rich treats such as chocolates, nougats, cafe lattes, and Nutella. There are 100 different varieties known that grow throughout the world. Pair this wonderful tea with an Apple turnover or anything chocolate after a satisfying meal.
Fun Facts:
Although it's less known than its cousin rooibos, honeybush is an herb that is gaining a lot of admirers in America these days. Like rooibos, it is naturally caffeine free and high in antioxidants and minerals. It's mellow and earthy like rooibos, too, but it has a sweet, honey-like richness that's all its own. We love it as a grounding, softly sweet base for exotic blends like this one.